Download All Music from SoundCloud.com with Free Soundcloud Downloader
April 22, 2013 at 11:29PM
SoundCloud is a popular online audio distribution platform that allows collaboration, promotion and distribution of audio recordings by users. We've previously shared some extensions for Google Chrome and Firefox browser that allows users to download any track or recording from Soundcloud, which are set as "listen only" and hence don't have the Download option. The Chrome extension is no longer available whereas the Firefox add-on doesn't works with the new version of Soundcloud. Fortunately, there is a workaround in the form of a tool for Windows that does the same job pretty well.
Free Soundcloud Downloader is a freeware that offers the ability to simply download any music audio from Soundcloud site and save it as MP3 file on your computer. It's easy to use, just visit soundcloud.com and copy the webpage address of the music track. Then paste the URL in the downloader by clicking the 'Add link to download button'. The downloading will instantly begin at a fast speed, plus one can perform batch downloads. You can play the downloaded track by double clicking the file name or open containing folder by right-clicking on it.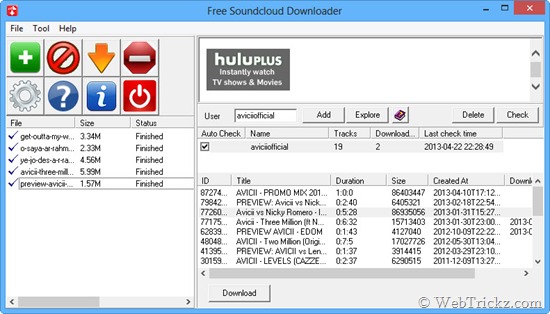 Another interesting feature about this small program is that it can follow the music and audio of single Soundcloud artists, bands, podcasters and creators, so you don't need to visit Soundcloud to frequently check for the updated music audio files. After adding the username of Soundcloud artist or band first time, the app will sniff 50 songs. And when you run the software next time, it will auto check the newly uploaded files for that artist. You can then download specific music titles from within the downloader.
Note: This tool asks user to install some unneeded apps during installation which you can simply ignore by selecting the Decline option.
Download Free Soundcloud Downloader
Related Posts:
from WebTrickz http://webtrickz.com/download-all-music-from-soundcloud-com-with-free-soundcloud-downloader/?utm_source=feedburner&utm_medium=feed&utm_campaign=Feed%3A+Webtrickz+%28WebTrickz%29