Best Windows 8 apps this week
May 03, 2013 at 08:21PM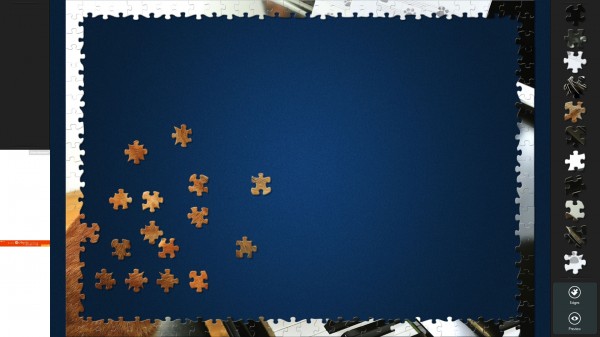 Twenty-seventh in a series. Growth remained stable but below the 2,000 new apps mark this week. The overall app count is now at 46,143 in the U.S. Windows Store, an increase by 1,788 apps in total. The store features 36,164 free apps, an increase of 1,362 apps, and 9,979 paid applications, which increased by 426 apps this week.
Several core apps were updated this week. The OneNote application for Windows 8 received an update that adds finger drawing support to it. To use the new feature, tap on the screen and select draw from the radial menu that opens up when you do.
The Weather application received an update as well, bringing interactive and dynamically moving weather maps for your region or city to it.
Users of the Xbox Games app may have spotted new features such as sending messages to friends, browsing game screenshots or the new home panel that were added to the app after a recent update.
Skype for Windows 8 last but not least received the video messaging preview feature that Microsoft made available in the Skype beta version for Windows earlier this week. It enables you to record a video message for your contacts even if they are not online at the time of doing so.
App of the week
If you like puzzles this game Magic Puzzles is for you. It offers multiple sets of puzzles for you to solve, with each available with piece sizes from 35 to 600. You can play 15 puzzles sorted into the three categories animals, nature and architecture free of charge, and purchase additional puzzles for $1.49 each.
Some puzzles are available for free in the store as well so that you may want to visit the store to download those to your system.
The puzzles are not too difficult, and the main reason for that is that the pieces are already aligned properly. While you will still spend some time solving a 600-piece puzzle, it is easier than puzzling on your desk as you need to find the right alignment for each puzzle piece as well.
You can drag and drop puzzle pieces from the right sidebar to the main area. The game provides you with another aid in form of an edges button. If you click on it, only edge pieces are displayed so that you can create the outer border fairly easily.
The program saves your progress so that you can stop and continue to play it without losing what you have achieved so far.
Other apps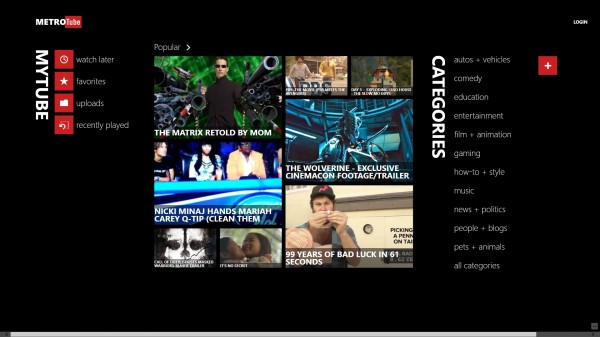 This looks like any other YouTube application for Windows 8 on first glance. It is a port of the Windows Phone app of the same name, which is one of the highest-rated video apps for the mobile phone operating system.
You can use the application anonymously or sign in to YouTube to access account-related information including your subscriptions, watch later feeds and favorites. Videos are displayed on individual pages where you can read the publisher's description and user comments, and find related videos listed as well.
The video itself plays in a small frame on the screen by default which you can switch to fullscreen mode if you prefer it. All videos are streamed in HQ, HD or Full HD quality with HQ being selected by default. You can change the quality for each video individually, or open the apps' options to select a different preferred streaming quality instead.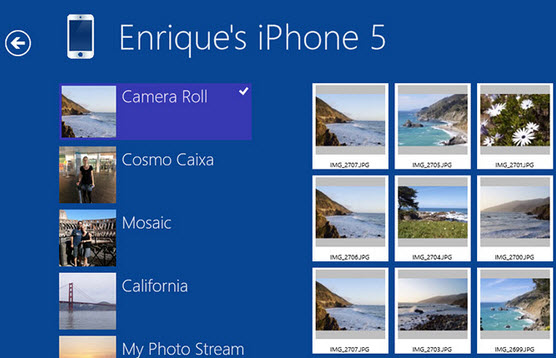 The application lets you transfer photos and videos between iPad, iPhone, Android and desktop computers over WiFi connections. Here is how it works: you need to install the (paid) Photo Transfer App for iOS or Android and the Photo Transfer App for Windows 8.
Once done, run both apps and they should discover each other automatically. From here it is a matter of tapping on the right button to transfer photos from your computer to the connected mobile device, or from the mobile device to your computer.
Photos can be transferred in full resolution, and metadata is preserved during the process.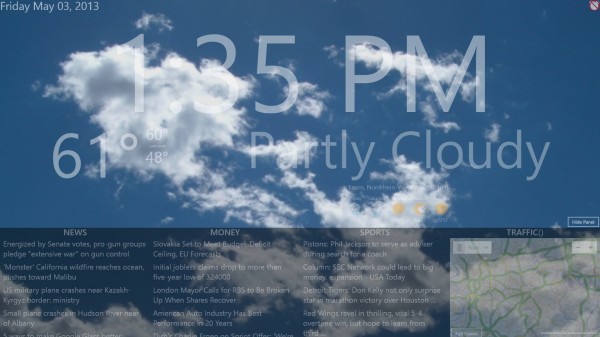 This ad-free alarm clock app for Windows 8 not only keep track of the alarms that you set, but provides you with local information that you may find useful.
Information includes a selection of news headlines as well as local traffic reports if you allow it to use your location information for that. Note that while weather information and traffic information are local, news are not. Traffic information can only be displayed if available for your location. You can add a destination location in the settings which can be useful if you always commute to the same destination.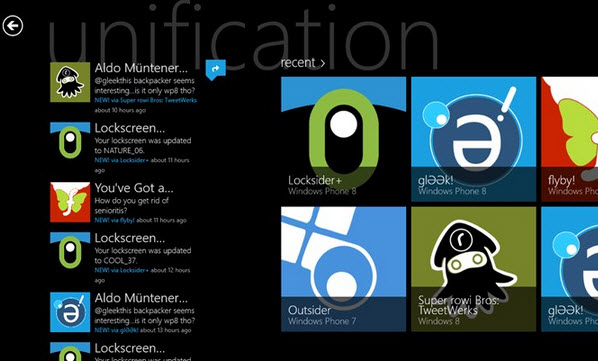 Unification is a notification center for all your devices powered by Windows. The application supports Windows Phone 7 and 8, Windows 8, and Windows Desktop. It enables you to view and manage notifications across Windows-based devices, so that you can check notifications that you have received on your phone on Windows 8, among other things.
You do need at least two supported devices to make use of it though. So, it you are running Windows 8 and Windows Phone, this app may be worth a shot.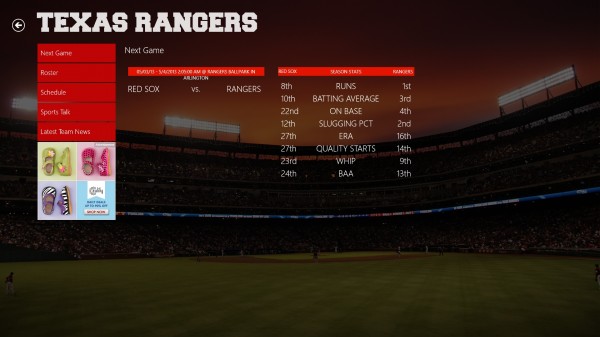 If you are into baseball you may find the app useful. It offers live scores and stats about games that are underway, a news section, standings, and detailed information about each team of the MLB.
Here you can find out about a team's next game, season stats, its roster, team news and access comments left by other users of the application.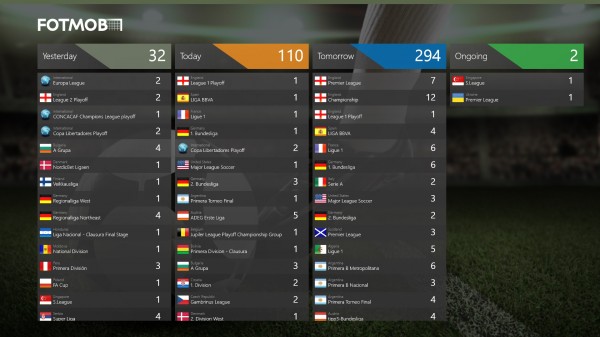 The football (soccer not hand-egg) application informs you about upcoming matches in all major and minor leagues worldwide. It displays information about yesterday's, today's and tomorrow's games, as well as ongoing matches. The matches of each league are displayed here for you to browse.
What may be more interesting than that are the live scores that the app provides you with. Even better, it features live audio coverage in more than 10 different languages for select matches next o detailed match statistics and related information.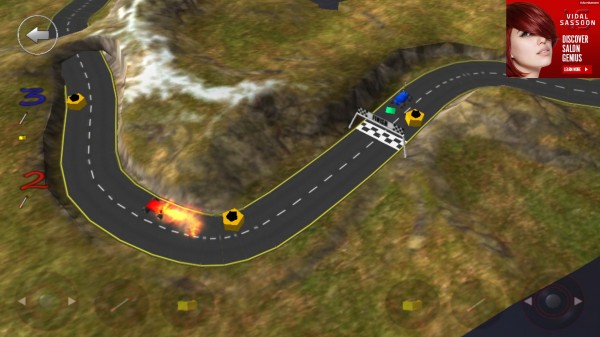 This game reminds me a bit of Micro Machines even though it is more basic. It is a racing game in which you need to make sure that your car is the first to make it to the finish line after a certain amount of rounds.
You use the A and D keys to change the lane on the road, S to drop a mine behind you and W to fire a seeking missile into the air that may hit your opponents to slow them down in the process.
The game is fun to play for a short while, but lacks diversity. Especially the fact that you can't steer your vehicle - other than moving it from one lane to another, and that you only race against a single opponent need to be mentioned in this regard.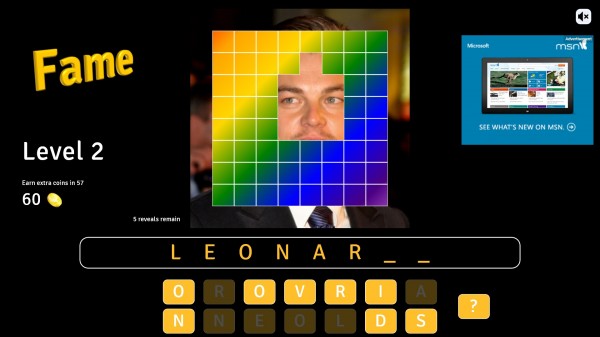 Guess the famous person behind the photo that is displayed by the app. It features more than 100 levels of guessing and plays in the following way. You get 15 reveals in each level that you can make use of to remove some of the blocks that hide the celebrities face.
Letters are displayed at the bottom of the screen that you need to use to enter the answer on the screen.
from BetaNews http://betanews.com/2013/05/03/best-windows-8-apps-this-week-25/?utm_source=feedburner&utm_medium=feed&utm_campaign=Feed+-+bn+-+Betanews+Full+Content+Feed+-+BN